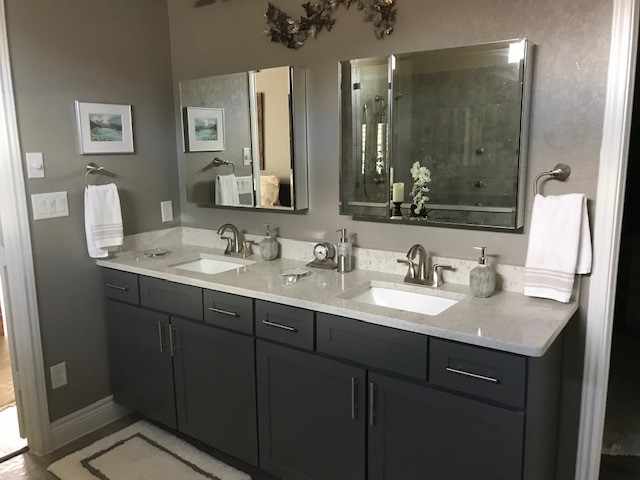 Bathroom Countertops

Elevate your home's aesthetic with our premier bathroom countertop remodeling services in San Antonio, Texas. Let us transform your space into a luxurious retreat you'll love for years to come.
4.9 out of 5
Out of 83 Reviews
Our Bathroom Countertop Services

At 1st Rate Remodeling, we're dedicated to transforming your bathroom into a space of beauty and functionality with our premium countertop installation services. We understand that countertops serve as both practical work surfaces and essential design elements.

Our skilled team specializes in installing a wide range of countertop materials, from sleek granite and quartz to timeless marble and durable butcher block. Whether you're looking for a complete kitchen makeover or simply upgrading your bathroom, we ensure that your countertops are meticulously installed, with attention to detail in every corner.

Let 1st Rate Remodeling take your home to the next level with countertops that not only stand up to daily use but also add an exquisite touch to your space.
Thank you! Your submission has been received!
Oops! Something went wrong while submitting the form.
1. Get in Touch
Our team takes the time to listen to your ideas, understand your vision, and assess the project's scope. We'll discuss your goals, budget, and timeline, ensuring we have a clear understanding of your remodeling needs.
2. Design and Planning
Once we have a clear understanding of your vision, our expert designers will work closely with you to bring it to light. We take into consideration your style preferences, and functionality requirements, and ensure every detail is just right. Our goal is to create a design that not only meets your expectations but exceeds them.
3. Material Selection
We know that choosing the right materials is essential for a successful remodel. From stunning countertops to eye-catching tiles we'll have a wide range of high-quality materials to choose from. We can help guide you through our curated selection of top-quality options.
4. Construction and Remodeling
Now comes the fun part - bringing your dream space to light. We work diligently to minimize disruption to your daily routine and keep you updated on the progress throughout the project. Our team pays meticulous attention to detail and maintains a clean and organized work environment.
5. Quality Assurance
At every step of the way, we prioritize quality assurance. Our project managers conduct regular inspections to ensure the work is done to the highest standards. We aim for perfection in every aspect of the remodeling process, leaving no detail overlooked.
6. Final Walkthrough and Completion
Before we consider the project complete, we'll schedule a final walkthrough with you to ensure your complete satisfaction. We'll address any remaining concerns or adjustments that may be needed. Your satisfaction is our ultimate goal.
Contact Us
Professional Bathroom Countertops
We are here to assist you! Contact 1st Rate Remodeling today for a FREE quote for your remodeling project.